A teacher in touch with the pressures
6,482 first-preference votes "a testimony to a teacher in touch with the pressures teachers endure"
Steve Sinnott's victory in the election for NUT General Secretary will come as a disappointment to teachers who had been looking for a real change at the head of the NUT.
---
A Teachers' Leader on a Teacher's salary
Break with past failures
Time to start winning
An end to excessive workload

Defend the right to retire on a full pension at 60

A serious campaign to end SATs and league tables

Action to oppose performance pay and the pay freeze

A qualified teacher for every child
---
Martin's Programme for teachers
A General Secretary on the existing salary of over £90,000 cannot be in touch with teachers struggling to pay their bills.
If elected, I pledge to remain on the pay of a classroom teacher. More ...
---
National action needed to cut workload
More broken promises
Despite all the promises from the Government and the signatories of the "Workforce Agreement", teachers are spending as much time as ever in the evenings, weekends and holidays planning, preparing and assessing. More ...
---
Unity in action needed to defeat "teaching on the cheap"
Teachers' jobs under threat
The notorious "Blue Skies" paper exposed exactly what this Government has in mind for the future of education. More ...
---
SATS Ballot- a missed opportunity
The 86% majority in the NUT's ballot showed the overwhelming level of opposition to the damage SATs are inflicting on the primary curriculum. More ...
"I am so pleased that we now have a candidate in this election who is still teaching in the classroom.
Martin is a proven campaigner in touch with the pressures faced by NUT members.
I would urge you to nominate him in your Association"
Nina Franklin, NUT National Executive, personal capacity
A Teachers' Leader On A Teacher's Salary
Martin is currently speaking at as many local association (branch) meetings of the NUT as he can.
He spoke about his campaign to the socialist newspaper
20 March 2004
When I was brutally attacked by racists at my school, then continually harassed, Martin pulled out all the stops to support me. He organised a huge rally so that the community could show its opposition to racism.
His personal support has since continued over many years.
I will be backing Martin because I know he has teachers' interests at heart"
Alison Moore, Lewisham NUT, primary teacher

Martin's challenge has been getting the enthusiastic backing of teachers wherever he has had a chance to put his case.
Click here for pdf of this leaflet
---
PAY: National Strike Action needed
Clarke throws down the gauntlet
Charles Clarke and the Review Body have thrown down the gauntlet to us on pay. More ...
---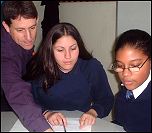 Martin (above) is the only candidate who still teaches
Build a united trade union campaign
Our pensions are our right. They are part of the wages that we have earned over many years – years of stressful work that have left many teachers desperately waiting for retirement. More ...
"His decision to take only the salary of a teacher is typical of Martin. His selfless commitment to fighting for the best for education, teachers and children will strike a chord with all teachers. That is why I will be supporting his campaign enthusiastically"
Linda Taaffe, NUT National Executive, personal capacity
A new way forward for black teachers
This June, NUT members have the chance to vote for a General Secretary that will put words into deeds at long last. Martin Powell-Davies is the candidate that can be relied on to stand firm for teachers - and for education.
---
In this year's General Secretary elections, thousands of NUT members will be looking to see if there is a candidate who is going to offer a change
12 February 2004
---
NUT conference: Fight the pay freeze, defend education
Time For A Change: TEACHERS ARE facing a series of vicious attacks over pay, pensions, workload and the threats to teachers' jobs.
10 April 2004
---
Defending Teachers, Defending Education
SOCIALIST PARTY member Martin Powell-Davies secured the nominations to proceed to the next stage of the election.
27 March 2004
---
Lewisham launches Martin's campaign
Martin's consistent work over a decade has helped build Lewisham NUT into a strong, campaigning NUT Association.
12 February 2004
---
For a fighting leadership of the teachers' union
Martin's Programme For Teachers: 1. "I would remain on the pay of a classroom teacher..."
24 January 2004